App Screens
On the left is a user card (from the user feed) and on the right is the "Pick & Picked" screen, which appears when two users select each-other.
Logo/Brand
This logo was designed using CF Chevalier de Lorimier, a unique font that represents the app/brand well with its hand-made whimsicality.
The fig icon to the right of the app name was designed to emulate a fig glyph, if it was made using the CF Chevalier de Lorimier font family, and was joined as if the script carried through the glyph.
Fonts + Colors
Fonts and colors were selected to create a unique, natural and whimsical feminine (yet still somewhat unisex) appeal. CF Chevalier de Lorimier was selected for the logo, and was used throughout the app for titling.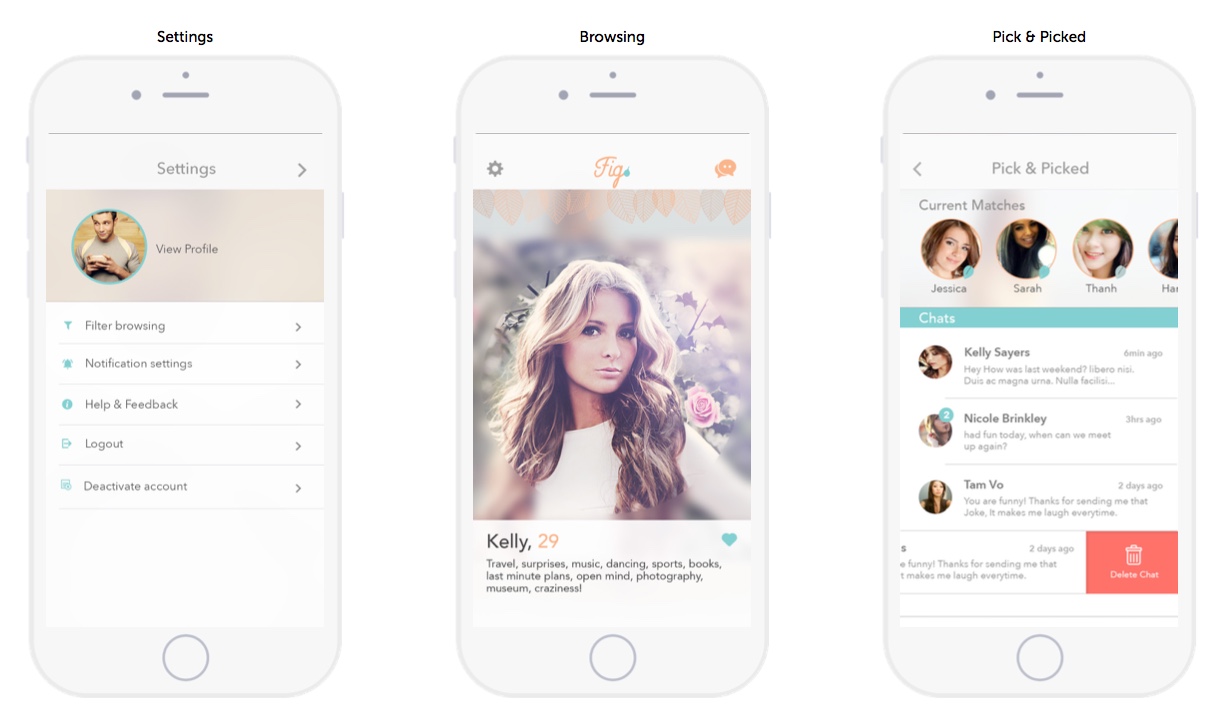 App Screens
The app was refreshing, simple and intuitive by design. Conversations felt fluid, visual cues were used to highlight the aging of relationships, and blurs were used carefully to provide context and highlight content.
App Screens
The app relied heavily on swipe gestures throughout, while buttons and visual hints helped guide new users through proficiency.

App Screens
With so many dating apps in the marketplace, this app's goal was simple: Creating a frictionless experience from asynchronous picking through meeting in person. Conversions were measured by in-person meetings, with a feedback loop that asked users how their dates were.
The app performed well above published industry standards for quality of dates, with users citing the short video-chat (used as a screening tool) as the reason they loved this app.
App Screens
Before Facebook introduced profile videos, Fig Dating did exactly that, using Vine as the inspiration behind the recording tool.
The reason for the organically (in-app) created profile video is simple, and reminiscent of an old telephone answering machine greeting: when people record themselves without professional tools, they're more like themselves, kinda like the way they'd be if you glanced across a room in a speed-dating session and saw them interact with someone else.
Additionally, standard (static) profile pictures could be added as well, for variety.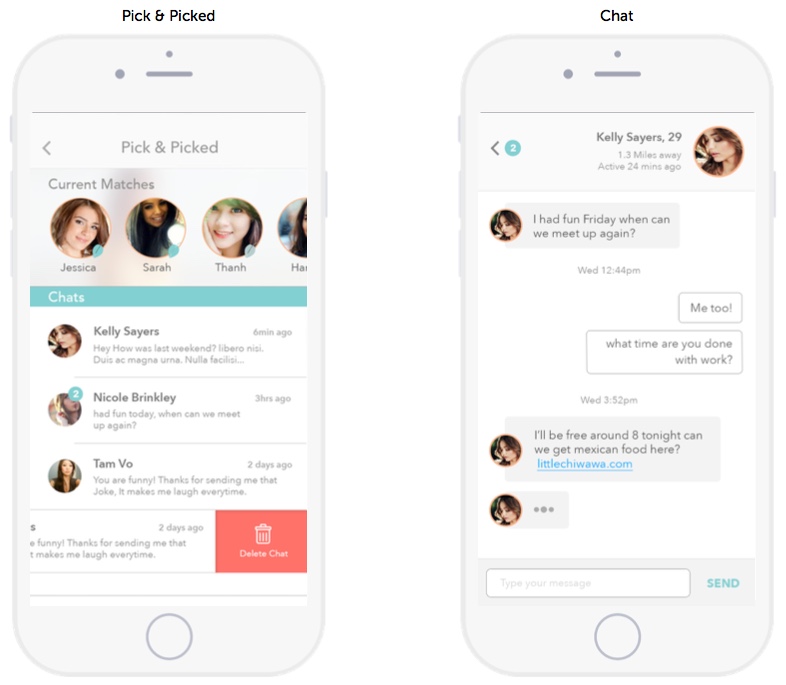 App Screens
Chats are fun and intuitive, with typing feedback (when the other user is typing) to ensure users enjoy fluid conversation.
High-Level Map
This project was built from the ground up, beginning with the white-board below. This high-level map was created from the white-boarded concept, and was used to define requirements and build the app wireframes (not shown on this page).
Original Concept
The original concept for this app/platform came from this white-boarded image.
This mockup was the basis for the entire app's design + development, and was created with the client as a means of getting the idea onto paper.
Most projects begin with just an idea which is then defined (requirements defined), competitively analyzed, storyboarded, wire-framed, then designed, built-out, tested and released.