Full Color Logo
The full color logo is strong and familiar. The word "control" is visually represented by the "control" button, which helps the viewer, at first glance, understand technology is used to help control their health.
The color palette is familiar, yet distinctive. Colors translate well between RGB and CMYK, and the color scheme is meant to evoke calmness, with a "refreshingly new" feeling and approach.
Two alternative colors are white and black, both presented in outline format.
Full Color Branded Icon
This full color branded icon was was designed for use on all social channels that require a 1:1 aspect ratio.
Two alternative colors are white and black, both presented in outline format.
App Screens
Showcasing various screens from within the Symphony™ app as presented in website and marketing collateral. This project included creating the style-guide, as well as all app wireframes, architecture, assets, screens and marketing collateral.
App Screens: Patient + Doctor Sides
The Symphony™ platform is divided into two distinctly separate parts of the same app, defined by the login credentials used.
Patients experience a new take on healthcare management, with the right tools to connect them with their healthcare team + medical data.
Doctors experience a modern, delightfully simple, yet powerful mobile-first patient management portal.
App Colors
The color palette developed for the Symphony™ app was intended to evoke the feelings of peacefulness and tranquility, to help ease the minds of users that typically experience a great deal of stress when interacting with healthcare.
System colors were also used when necessary to ensure a greater level of consistency for those utilizing accessibility features provided by iOS 10.
App Typography
This image comes from the app's style-guide. System fonts from iOS 10 were used whenever possible to allow for accessibility settings in iOS to be maximized.
App Buttons + Icons
Symphony was designed to feel familiar. As an iOS-only app, the buttons + icons were designed to closely resemble their iOS 10 counterparts, to provide the best possible user experience.
Buttons + icons that didn't appear in iOS 10 felt so familiar, most users in our test groups indicated they saw them before in native iOS apps, even though the buttons or icons referenced didn't exist anywhere else.
Storyboard Map
The project required the development of functional requirements, which were then storyboarded out.
This image (one of more than 30 like it) shows one part of the patient side of the primary navigation of the application.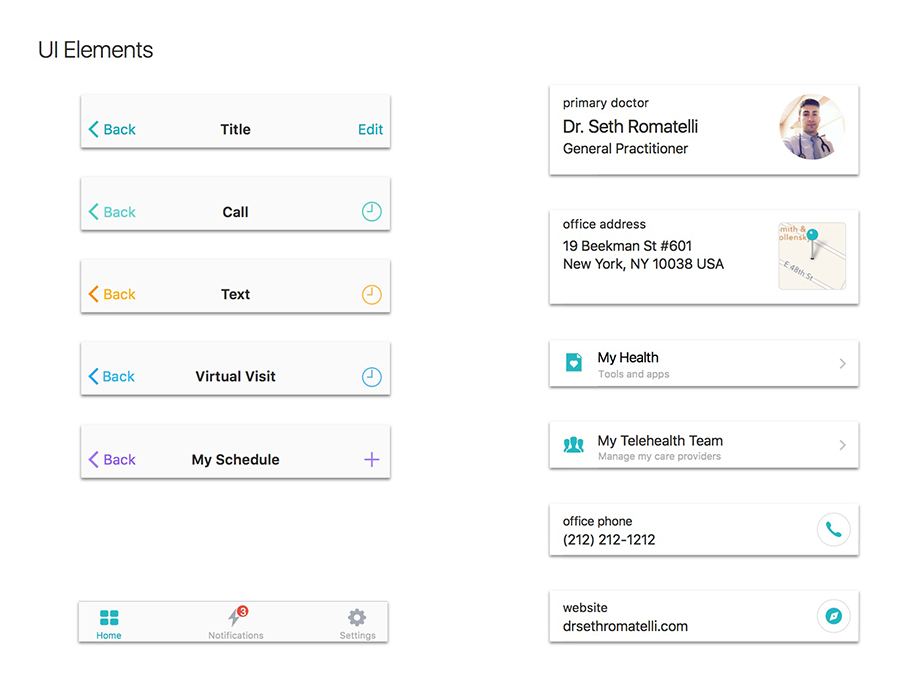 UI Elements
This image depicts a sampling of UI elements that combine the buttons + icons shown above with the typography and storyboard wire shown above.
Careful consideration was given when deciding on each element ensure users could maximize the benefits of accessibility settings in iOS.